Version 10.19.0
Contents
CoPilot 10.19.0.1528 #
| Platforms Released | Release Date |
| --- | --- |
| Android SDK App, Android SDK Libraries, Android Xamarin SDK Libraries, Laptop SDK App, React Native (Android and iOS), iOS SDK Libraries, iOS Xamarin SDK Libraries | March 2021 |
Removed Features #
In CoPilot's user interface, the Axles setting has been removed from Vehicle Dimensions in Vehicle Routing Profiles because it is not used by CoPilot. (Axles is used in other Trimble MAPS applications for toll cost calculations.)
CoPilot no longer automatically switches to 2D view when entering a Site. Instead, it remains with the current view (either 2D or 3D).
Bug Fixes #
Fixed an issue preventing certain routes run in CoPilot from being displayed in RouteReporter.
Fixed an issue that could cause the keyboard to disappear when CoPilot is sent to the background and brought back to the foreground when switching between apps on a device.
Fixed an issue allowing drivers to edit Vehicle Routing Profiles created by a company administrator in FleetPortal.
Raised the minimum Android API support level to 19 (Android 4.4) to fix an issue preventing some customers from upgrading to CoPilot 10.19.
Fixed an issue that could cause CoPilot to crash after completing a leg of a RouteSync prescribed route.
Fixed an issue that could cause the Skeleton App for Android to crash when downloading maps.
CoPilot 10.19.0.1405 #
| Platforms Released | Release Date |
| --- | --- |
| Android SDK App, Android SDK Libraries, Android Xamarin SDK Libraries, Laptop SDK App, React Native (Android and iOS), iOS SDK Libraries, iOS Xamarin SDK Libraries | December 2020 |
New Features #
Encourage Driver Safety with Slowdown Alerts #
CoPilot now provides voice and popup message warning alerts for trucks when a sudden traffic slowdown is detected ahead on the route. The alert is issued up to 5 miles (8 km) before the traffic incident to give the driver time to slow down and potentially avoid an accident. (This feature requires an ActiveTraffic license and works with truck and school bus Vehicle Routing Profiles only).
A demo of the voice and pop-up message alerts
Display Trip Messages #
The SDK App can now display messages from the Trip Management Web Service if you are using Trip Management to send trips to a driver's device. (May require additional licensing)
Automate Downloads of CoPilot Updates #
The Android and Android Xamarin versions of SDK Libraries can now be downloaded via public, cloud-based repositories.
Enhanced Features #
Licensing Support for Partners - The Licensing APIs in SDK Libraries have been updated to support partners who are using the fields External Acct ID, Partner ID, and Asset ID, to assign and track CoPilot licenses in Account Manager.
Improved Sites Routing - The Sites feature has been enhanced for Sites that do not have a mapped internal road network. Improvements include:
General verbal instructions to the exit of a Site (i.e. "Head West To Exit").

Better routing when a driver is parked within a Site and the first stop of the next trip is also within that same Site.
More RouteSync Feedback - The range of error codes returned by the onRouteSyncError callback has been expanded to provide more details.
Automatic State + National Network Routing - (North America Only) State+National Network routing will automatically be enabled in FleetPortal and CoPilot when custom Vehicle Dimensions are set to a Total Length above 48 feet or Maximum Width above 96 inches.
Better Speed Limit Data - The posted road speed limit feature in CoPilot has been improved to:
Provide better speed limit coverage for roads throughout the world.
Better avoid displaying ramp speeds when passing by ramps on a highway.
Removed Features #
The following APIs have been deprecated as they are not currently in use:
SDK App: MSG_ID_MapSureGetOverrideRequest, MSG_ID_MapSureResetAndDeleteOverrideRequest
SDK Libraries: MapDataMgr.getMapSureOverride(boolean inc), MapDataMgr. resetAndDeleteMapSureOverride() for CPIK
Bug Fixes #
Fixed an issue that could cause CoPilot to fail to generate a route when maps are downloaded to an SD card and then transferred to the device's memory.
Fixed an issue that could cause CoPilot to show a black screen when toggling among CoPilot screens in integrations using React Native.
Fixed an issue that could cause CoPilot to run an Auto Vehicle Routing Profile on first install and launch on iOS devices running a companion ELD app.
CoPilot 10.19.0.1360 #
| Platforms Released | Release Date |
| --- | --- |
| Android Xamarin SDK Libraries (formerly CPIK) | October 2020 |
Enhanced Features #
Add address labels - If a GEO URI includes an address in addition to the GPS coordinates of a stop, the address will now be used as the stop name label shown in CoPilot.
Replace pedestrian icons - A configuration setting was added that allows you to override the use of the pedestrian icon on map screens when a stop is located on a road that is restricted to only pedestrians or bicycles. A numbered stop icon appears instead. The setting is:
[User Settings]




"OverridePedestrianStopIcons"

=

0 (default value is 0, we will not override)





[User Settings]




"OverridePedestrianStopIcons"

=

1 (the icons will be ignored and instead shown like regular stops on the map screens)



Larger speed limit signs - The speed limit sign on the navigation screen has been enlarged by 15% for better visibility.
Bug Fixes #
Fixed the popup that appears when crossing an international border to properly display the units of measure in that country.
Fixed an issue that caused the CoPilot login screen to retain incorrectly entered login credentials, forcing the user to uninstall and re-install CoPilot.
Fixed an incorrect German text-to-speech pronunciation for "A1" Motorway.
Fixed an issue that could cause CoPilot to go to the background after hitting the button to begin navigation.
Fixed an issue that could cause CoPilot to crash when entering certain destinations.
CoPilot 10.19.0 #
| Platforms Released | Release Date |
| --- | --- |
| Android SDK App, Android SDK Libraries, Android Xamarin SDK Libraries, Laptop SDK App, React Native (Android and iOS) | September 2020 |
Note: To better clarify our integration formats, CoPilot's Software Developer Kits (SDKs) have been renamed. CoPilot CPIK is now called CoPilot SDK Libraries and CoPilot SDK is now called CoPilot SDK App. This naming change has no impact on integrations.
New Features #
Take Advantage of a New CoPilot Integration Option #
Integration partners and fleets can take advantage of a new, streamlined option for integrating CoPilot navigation into an existing workflow. The CoPilot Standalone App allows you to customize and deploy CoPilot with little or no development work. CoPilot can be downloaded from app stores, or installed via a Mobile Device Management (MDM) solution, and enhanced with:
Cloud-based web tools including FleetPortal to apply Vehicle Routing Profiles and other CoPilot settings for the fleet, and ContentTools to create custom location content.
A consolidated URL launch command from the partner's app to identify a CoPilot user for licensing and web tools configuration.
Web APIs to gather dispatch information from a partner's telematics app, create a trip and send it to a specific driver's device for CoPilot navigation.
The Standalone App allows full dispatch integration while using the simplicity of app store distribution for map and software updates. This new, cloud-based integration option is in addition to our existing, app-to-app integration options, CoPilot SDK Libraries and CoPilot SDK App.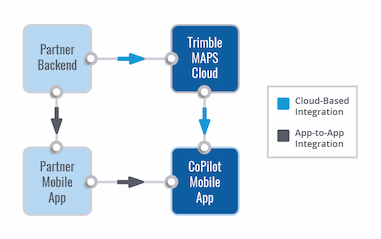 Download Custom Mapsets #
(Available Upon Request) Map downloads can now be planned via FleetPortal. You can assign specific map regions to groups of drivers or vehicles, reducing device storage requirements for maps. Contact to add this feature to your account.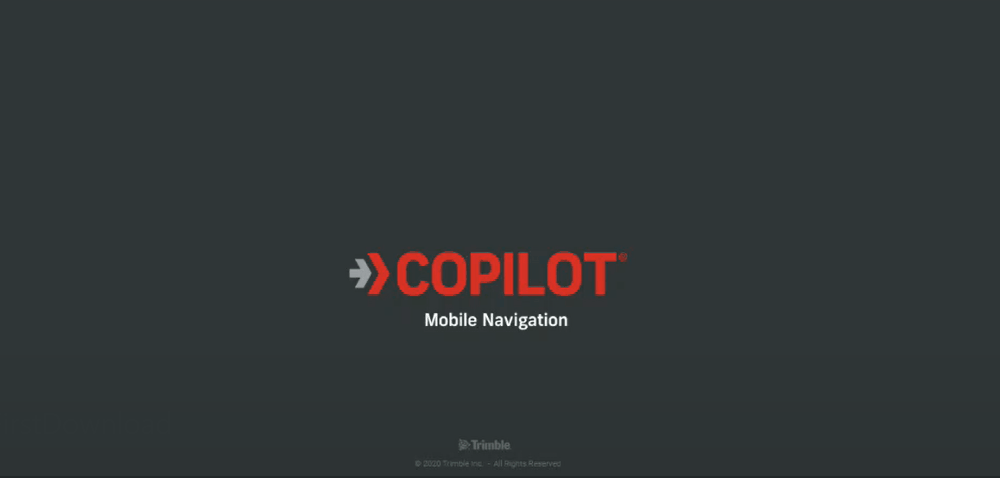 Select from Default Routing Profiles #
CoPilot's default Vehicle Routing Profile options now match the options in PC*MILER, ensuring that routes planned in the back office match those generated by CoPilot. That includes a "Default Rating" profile, which is most often used to generate mileage for rating.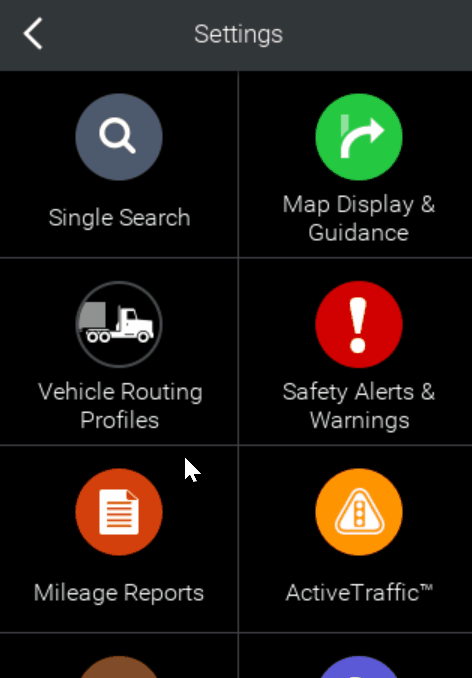 Set Road Preferences #
The ability to set Road Preferences has been added to Vehicle Routing Profiles. Road Preferences tell CoPilot whether to avoid or favor certain road classes when generating a route. Road Preferences are visible by default in app store licensed versions of CoPilot but must be added to the user interface in enterprise versions by setting the following configuration value:
[Application]
"ShowRoadPreferencesUI"=1

These values can also be set when creating a Vehicle Routing Profile in FleetPortal.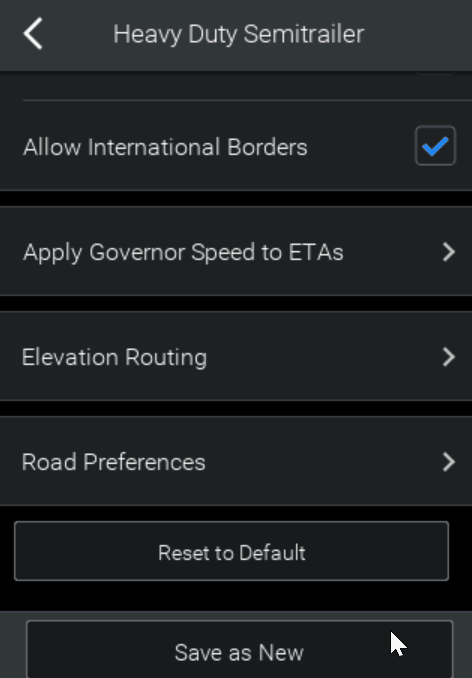 Generate Better Routes for Local Deliveries #
To improve routing, CoPilot now supports two additional local road classes: sub-local roads, which are accessible by vehicles, but not suitable for through routes; and pathways, which are normally accessible only to pedestrians, bicycles, and small, lightweight motorized vehicles.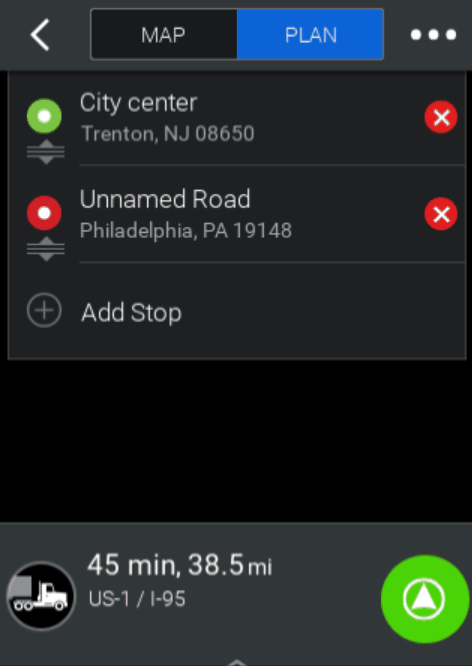 Enhance URL Launch Capabilities #
CoPilot's URL launch has been enhanced and can now:
Use an integration partner's existing account ID for their customer, in addition to the account-unique asset ID (e.g. partner's driver or vehicle ID), to activate a CoPilot license on a device. In the past, partners were required to use a Trimble MAPS assigned company ID.
Set configurations, identify the driver using the device, and apply licensing credentials with a single URL string.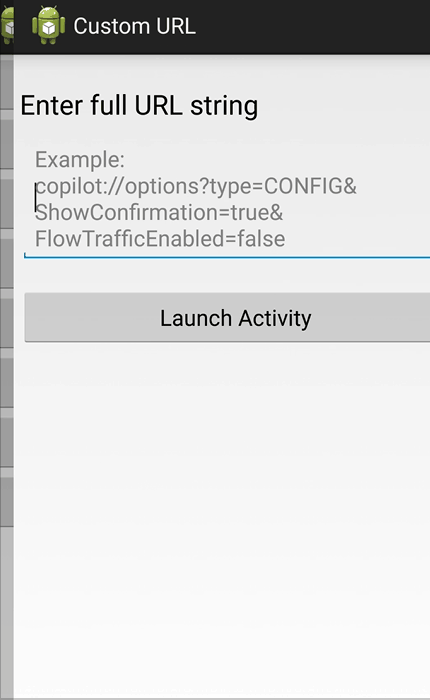 Enhanced Features #
Routing Type Naming Change #
ActiveRoutes has been renamed to Fastest routing to better clarify the type of route it prompts CoPilot to generate. (Fastest routing requires an ActiveTraffic license, and it is not recommended for truck profiles.)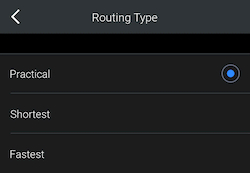 Improved Routes Around Traffic #
CoPilot is now better able to avoid closed roads when suggesting alternative routes based on traffic incidents.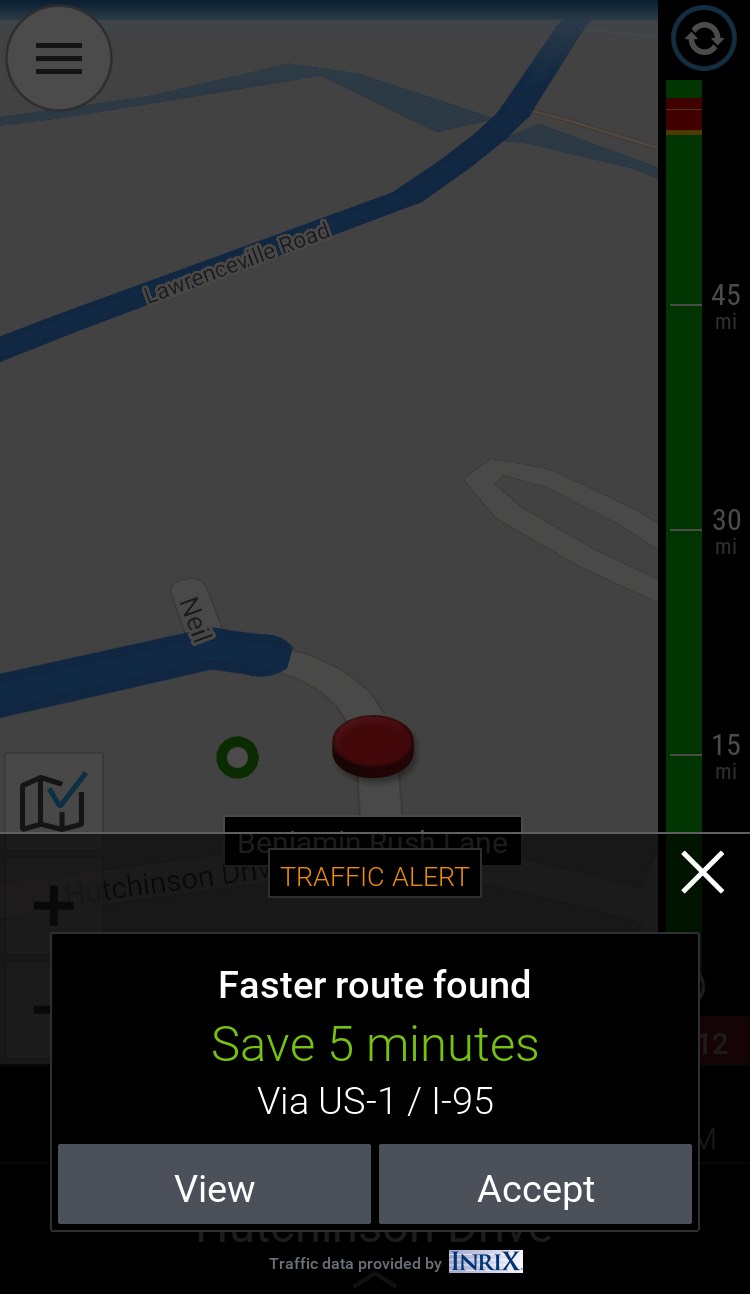 SpeechMgr for React Native #
Our SpeechMgr APIs, which include methods regarding speech, languages, and voices, are now available in our SDK Libraries for React Native.
Support for MapExact Roads #
CoPilot now supports new roads created in MapExact, our premium map editing web tool, regardless of where they are placed on a road link.
Improved Routing to Twin Stops #
CoPilot's Advanced Route Optimization premium add-on feature now better organizes twin stops in a more logical order. Twin stops are two or more stops with the same exact lat/long coordinates but different house or apartment numbers.
Get Leg Coordinates #
getCoordinates(), a new public method in our SDK Libraries Leg class, allows you to retrieve a list of coordinates that represent the leg.
Bug Fixes #
Fixed the SDK App sample application and updated the documentation to include Fastest as a possible setting for RouteType.
Fixed an issue that could cause CoPilot to crash when downloading maps under certain circumstances.
Fixed a spelling error in the code for the OnLicenseMgtLogin callback.
Fixed an issue that could cause CoPilot to incorrectly return a value of -1 for GPSFixQuality.
Added Msg_IntegrateCustomPOI and Msg_ImportPOISet APIs to our SDK App sample apps.
When searching for an exact match via API, only EXACT match results will be shown.
Removed an error pop-up that was displayed after entering a blank partner ID or device ID when inputting FleetPortal settings via API.
Fixed an issue that could prevent CoPilot from receiving Account Manager updates when the device was using only cell network data.
Fixed a missing railroad crossing alert in Racine, Wisconsin.
Fixed an issue that was preventing CoPilot from properly displaying guidance instructions in Safety Mode in languages other than English.