FleetPortal
Contents
FleetPortal is a web tool that connects the back office to CoPilot. It ensures all of your fleet's vehicles—or specific groups of vehicles—run CoPilot with the same, company approved settings and location information. With FleetPortal, you can:
Remotely create and assign vehicle routing profiles, which help CoPilot generate a safe and legal route based on the type of vehicle being driven. (Truck profiles, for example, will avoid low bridges, tight turns, and weight-restricted bridges.)

Assign custom location data created in ContentTools—including custom places, sites and route modifiers—to specific vehicles or drivers. Places and sites help direct drivers exactly to where they need to enter and exit a location and provide other valuable information about the location. Route modifiers shape routes generated by CoPilot based on your preferences for specific roads you want to close off to travel, avoid if possible, or route through (favor).

Assign sets of maps to specific vehicles or drivers. (CoPilot stores map data on the device to allow for fast routing, recalculation and usage in the most remote locations.)
FleetPortal has a web-based user interface where you create and assign these settings before they are sent down to CoPilot on a driver's device.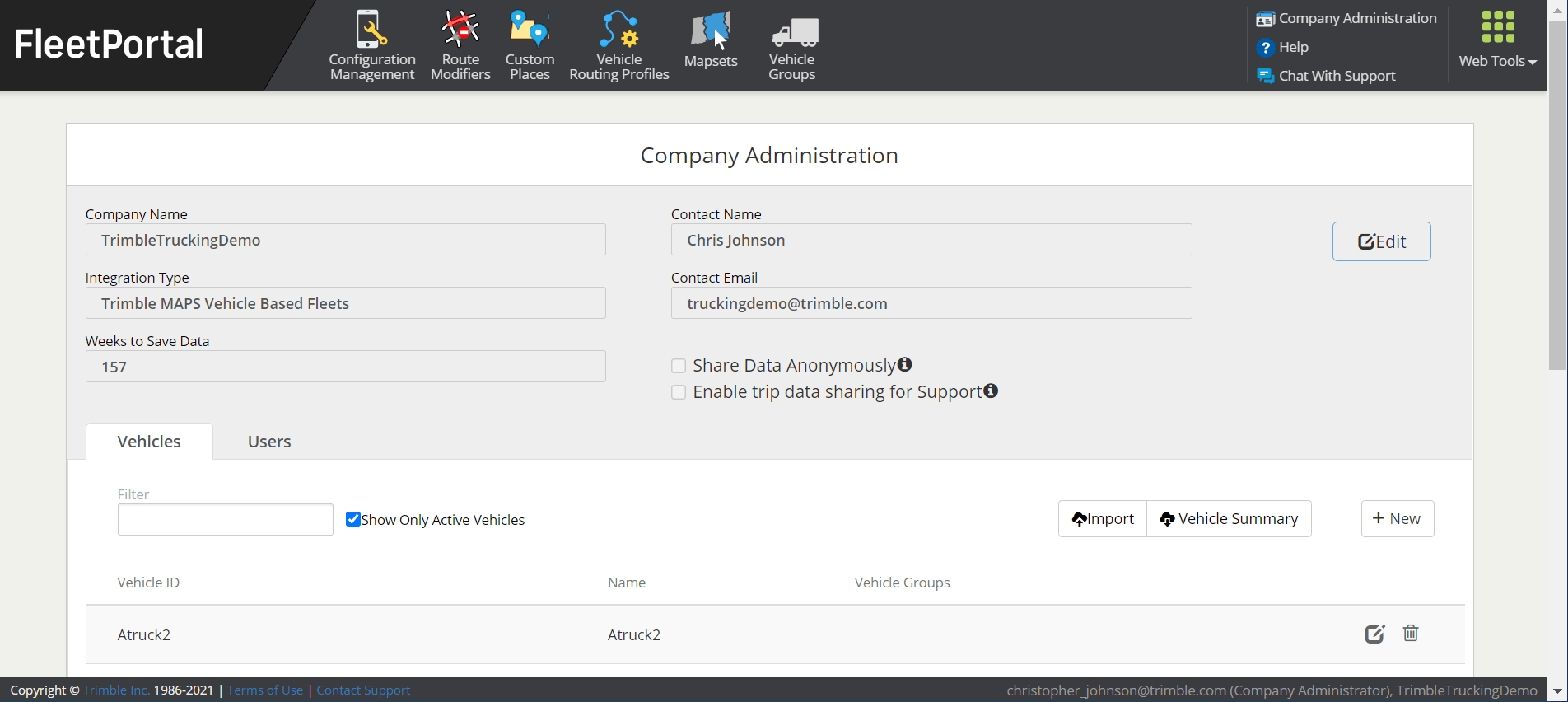 How FleetPortal works
A fleet's list of vehicles, drivers, or both is either entered manually in the web tool or pulled into FleetPortal automatically via:
The Trimble Maps Account Manager
A partner application, such as a telematics or ELD system
Within FleetPortal, a fleet administrator organizes those vehicles or drivers into specific groups based on traits such as vehicle type, geographic area, business units, or any other ways a fleet finds useful. The administrator then creates and assigns custom settings for each group.
Connection with CoPilot
FleetPortal shares settings with CoPilot on a mobile device in various ways, depending on the implementation. This connection can be automatic—via a wireless internet connection—if a fleet is assigning CoPilot licenses to devices or vehicles via the Trimble Maps Account Manager.
It can also be managed device-by-device using CoPilot configuration settings or URL launch commands from a partner application.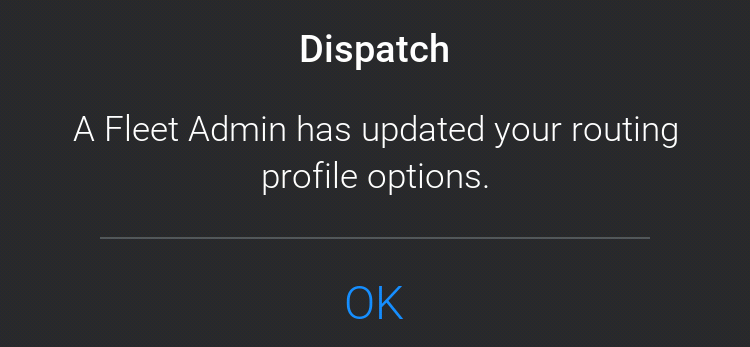 FleetPortal features
Once set up, FleetPortal allows you to:
Create groups of vehicles or drivers running CoPilot
You may want to create a single group or multiple groups based on types of vehicles, business units, locations, etc.
Create and assign vehicle routing profiles to vehicle or driver groups
A vehicle routing profile contains the settings that tell CoPilot how to create the most efficient, safe, and legal routes for your specific vehicles and preferences. Settings range from a vehicle's weight and dimensions to preferences on whether routes should use toll roads or ferries.
The Vehicle Routing Profiles screen in FleetPortal
Create and assign configuration profiles to vehicle groups
Configuration profile settings allow you to monitor the driver's compliance with a route (if you are separately licensed for RouteReporter route compliance), and limit the changes a driver can make to the settings on his or her CoPilot app. (For example, you may want to force drivers to use only company approved routing profiles.)
Create and assign mapsets to vehicle groups
Mapsets are subsets of map data in the U.S. and Canada. This feature can help save disk space on your devices running CoPilot, and it can reduce the time and wireless data needed to download maps and map updates.

Assign location content from ContentTools to vehicle groups
Content includes route modifiers, which are roads that CoPilot should favor or avoid in routing, and custom places. Content is created in ContentTools and assigned to specific groups of vehicles in FleetPortal.
CoPilot routing to the correct entrance for a site created in ContentTools
Accessing FleetPortal
FleetPortal is available for CoPilot customers who are also licensed for web tools. Read more in our FleetPortal User Guide.
---
Last updated September 12, 2022.